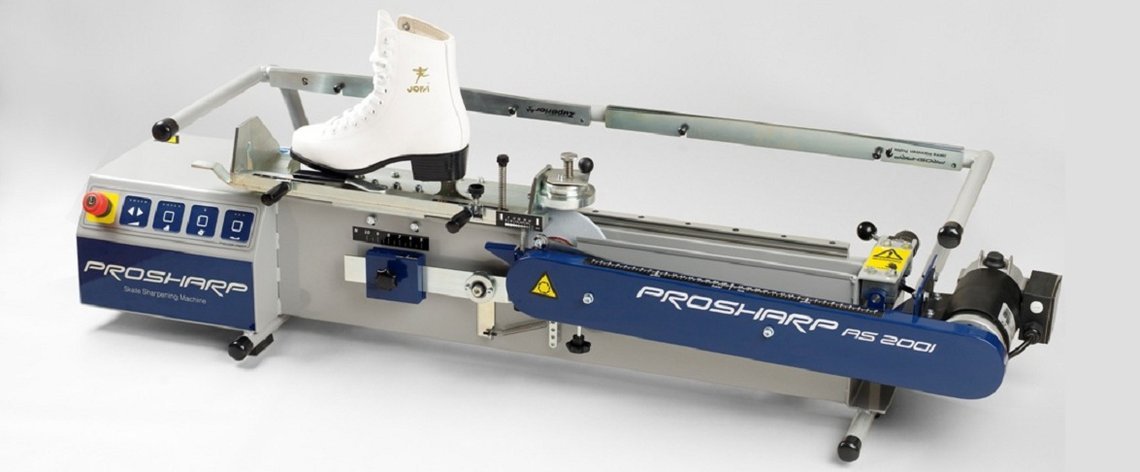 Sharpening skates for figure skating
Slidu Serviss offers professionally sharpening blades for figure skating and ice dancing.
In order to get the most out of your skates, it is very important to properly and regularly maintain them. The most popular service of our service is - sharpening blades for figure skating. It is important to know that, like any other job, blade sharpening requires a serious approach, an experienced master and the presence of high-quality appartury.
What advantages brings high-quality sharpening:
• Your blade serve you much longer
• You spend less forces on horseback
• You get a faster and more long slide
• Improved control over the blade and body balance
• quicker acceleration and increased maneuverability
• You have less strain muscles and get more fun
Almost everyone who skates, sooner or later noticed that in different places in different ways grind. The result is different, and this affects the riding. The problem is that all skaters are unique and sharpen all the same does not happen. Not true test your settings, even if the ideal sharpening, do not bring a good result! If work on sharpening the blades are made of poor quality, then went out on the ice, you feel that the horses began to go to the new, you do not always understand the principle, it began to slip, or on the contrary a deep incision in the ice. As a result, it is reflected in your results, and sometimes ends up with bruises and contusions.
In Slidu Serviss, we prepare their masters, conduct training and workshops. We constantly monitor the latest developments in this growing back and try to keep up with new trends. Our craftsmen share their experiences with each other, which, allows to improve the level of service offered. We maintain friendly relations with the Colleges abroad and often exchange their experience.
It is important to understand before you start working, what will you do and why. Only in this way can dostingnut quality and stability results.
Our office hours can be found here
It is strongly recommended to read the section "How not to spoil shaped blade?"
Types sharpening types of grooves and repetitive mistakes!
Basic errors allowed not professionals at sharpening skates:
1. Does not the same inner and outer side edges (rib height). Because the master error, one edge at sharpening can get less than another. At the time of sliding both edges are recessed into the ice evenly and you do not feel the difference, but when you make a maneuver at the wrong time the blade can slip and you can lose your balance and fall.
2. The range and type of recess (groove) is not correctly set. It usually occurs in the self-taught masters, who do not have a measuring tool and sharpens the eye. This error greatly affects the sensations when riding. Skates can start to slip during acceleration or maneuver, or vice versa, too much to cut into the ice and speed dialed extinguish quickly.
3. Do not eat the correct steel with different sections of the blade. As a result, the blade loses its configuration, profile, and a fulcrum. Horse of blades impossible, leading to costly replacement! Typically, this error is very difficult to fix. If suddenly you have got into this situation, ask for help to the masters Slidu Serviss, they will try to help you!
Slidu Serviss strongly recommends the use of manual tools for sharpening blades for figure skating.
Varieties grooves
In our service, you can get all the most popular types of sharpening. Today, there are several large subtypes:
Type R (ROH - Radius of Hollow). The classic view of sharpening the blades. Using specially prepared abrasive stone on the blade groove is applied. The size of the groove is measured by the radius of the circle. If the radius of the circle is 8 mm, while the groove Considered the R8, if the radius of 25mm, toga groove Considered R25.
This type of sharpening blades distributed as to hockey blades, and the braces. Widely be applicable today and is the most popular.
It is important to not paying attention to others, decide what size is right for your riding style. Look into the matter in more detail, you will be able to properly prepare your equipment for training, competitions or free riding.
Refer to our masters, and they are happy to help you find your size. We offer all sizes of R grooves.
| | |
| --- | --- |
| Pluses of a small radius (R6-R12) | Minuses small radius (R6-R12) |
| Greater control over the blade | Strong resistance |
| Greater stability | Rapid loss of speed dialed |
| Clearly feeling edges | A deep incision in the ice |
Рекомендуеться для начинающих
| | |
| --- | --- |
| Pluses of a large radius (R13-R25) | Minuses of a large radius (R13-R25) |
| Save gather speed | Blade slip |
| Повышенная маневренность | Less clearly the edges of the blade |
| Poor ice resistance | Difficulties during heavy maneuvering |
Most often used by professionals
Often, different masters use a different system of notation grooves. As a result, after sharpening in different workshops skates ride differently. Selection of the groove is the root cause of these differences.
FBV type (Flat Bottom V). Developed in North America, there is actively used. In Europe, only recently it appeared, and carried out on the machines of the Canadian and American production. Variability option - the width of the flat part of the blade between the edges and sharpening depth.
| | |
| --- | --- |
| Advantages FBV (Flat Bottom V) | Minuses FBV (Flat Bottom V) |
| High speed | Нераспространенность и дороговизна |
| Rigid clutch | Little depth of sharpening |
| Good stability | Very quickly loses sharpness |
| Good maneuverability | Not compatible with ROH groove |
FBV Sharpening - very old Canadian design, used for over 20 years. It is used by many teams in the NHL. Many players, like it very much. There are certainly negative feedback. This type of sharpening is short-lived, but he has a good coefficient of performance (COP). Efficiency is defined as - a good reel, plus good traction on ice and the minimum expenditure of energy.
Using the sharpening FBV, you should always stick to the same workshop. Not all machines for sharpening skates able to repeat this type of groove. Another problem is that you have to remember the size of your own sharpening tool to measure simply does not exist, and each manufacturer uses their own symbols.
| | |
| --- | --- |
| Advantages sharpening Z (Channel Z) | Minuses sharpening Z (Channel Z) |
| High speed | Prevalence and increased cost of the first sharpening |
| Good handling | |
| Rigid clutch | |
| Increased slip. factor | |
| Minimum resistance without maneuvers | |
| Compatible with grooves ROH | |
Type Z (Channel-Z). Developed in Sweden. Almost completely solves the slippage problem and makes it possible to sharpen shallower groove than standard sharpening (ROH) or FBV (Flat Bottom V). Characteristics of this type of groove just excellent.
This type of sharpening for 10 years already tested and proved today that it is far superior to all other types of grooves on the key characteristics. The groove looks like the groove in the groove. It has a standard rounded groove (ROH) and rectangular channel (Channel Z) inside the standard groove.
Channel- Z as well as the standard groove is chosen according to your feelings and preferences. Channel- Z, is inside the standard (ROH) groove, it was created to assist in maneuvering and does not create resistance without maneuvers. It works great at the start, when you start moving. In passive reel it only reduces the resistance. This happens due to the Z-cut channel, which is filled with melted ice (water), which is converted into an extra lubrication when riding.
Example: if you are using Channel -Z size M (0.8mm), and blade thickness of 3.0 mm. It should take between 3.0 and 0.8. 2.2 mm will remain in contact with the ice when reel - it is 35% less. Plus, the second groove enhances the tenacity and makes it possible to reduce the depth of the first groove by 2-4 units if you have used the R20, recommend to go to the R23, which further reduces drag by another 5%. In the end, a delightful result - minus 40% resistance !!!!
Channel-Z has three sizes: S, M, L. Channel-Z «S» - the narrowest channel, «M» - the average, and «L» - the widest respectively. As the depth of the channel varies.
Workshop equipment Slidu serviss, allows to fulfill Channel-Z sharpening any blade. We recommend you to sharpen your skates only in workshops Slidu Serviss.
This type of sharpening is much more difficult and it wears out much faster grinding elements of the equipment, it is because of the cost of such sharpening above. To date, only Slidu serviss offers the sharpening in the territory of Latvia.